Back to Business Women's Conference: Raleigh, NC
*Please note that this event has been moved due to weather to
Friday, March 6, 2020
Archie K Davis Conference Center
12 Davis Drive, Research Triangle Park, NC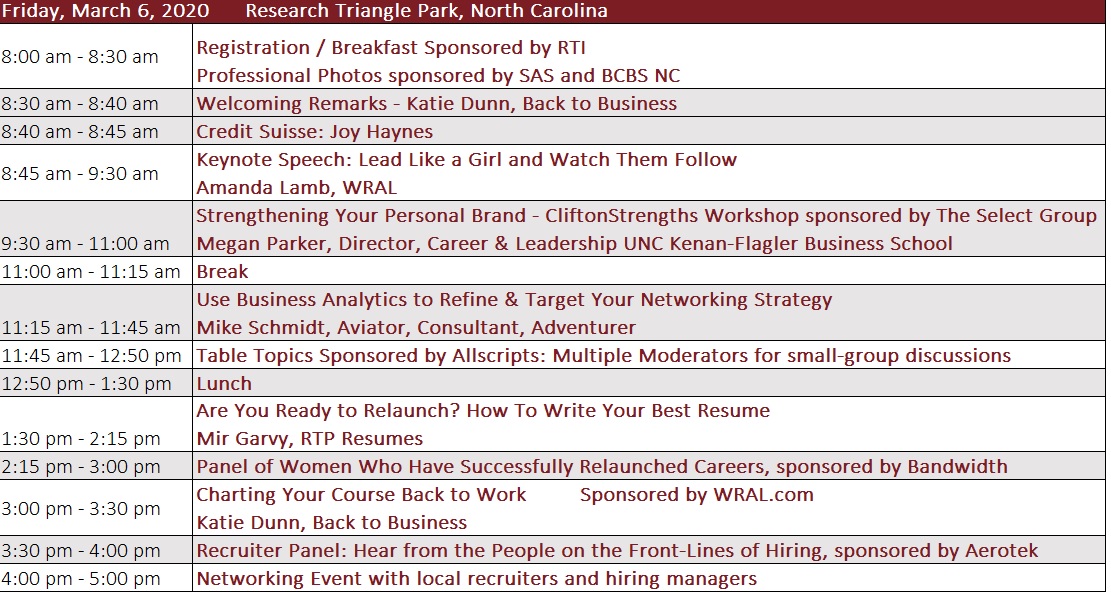 Keynote: Lead Like a Girl and Watch Them Follow
Amanda Lamb
Veteran Television Crime Reporter, Author, Founder of Stage Might Communications
WRAL reporter Amanda Lamb will inspire you to use your unique gifts to navigate your return to the workforce and lead with the special qualities that only women can bring to the table
Workshop: Strengthening Your Personal Brand
Megan Parker
Director, Career & Leadership for MBA & Alumni of UNC Kenan-Flagler Business School
This interactive session will help you identify, craft and unleash your own personal brand using Clifton Strengths. You'll take the Clifton Strengths assessment prior to the conference and Megan Parker will teach you how to use your results to develop your personal brand. 
Sponsored by The Select Group.
Workshop: LinkedIn: Use business analytics to enhance, refine, and target your networking strategy
Michael Schmidt
Aviator, Consultant, Adventurer
Learn LinkedIn 3.0 to be found by employers, create meaningful content and expand your professional network.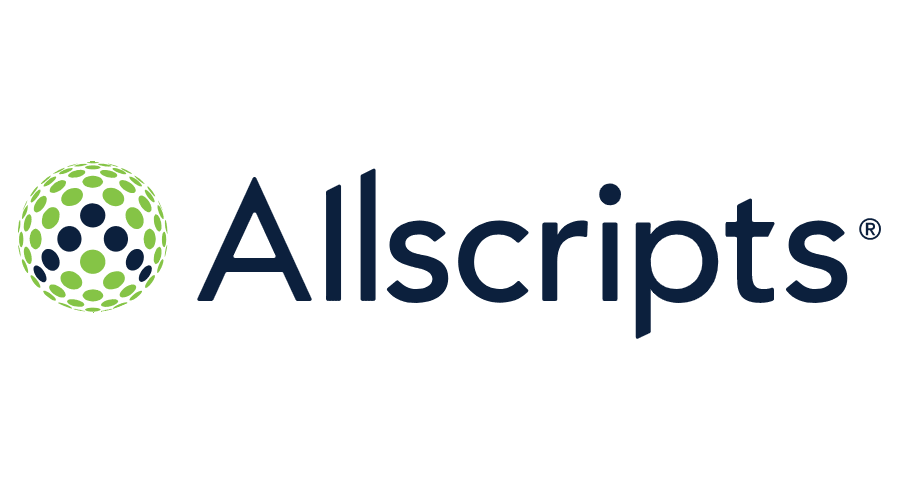 Participate in multiple small-group discussions led by an expert moderator on topics such as how to position yourself as a career switcher, how to do an informational interview, and how to re-enter the workforce through a Returnship program. 
Sponsored by Allscripts
Enjoy a lunch break while you meet other conference attendees.
How To Write Your Best Resume
Mir Garvy of RTP Resumes will tell real-life stories and share lots of sample resumes to inform and educate attendees about the latest resume-design strategies for returning to the workplace after a career break.
Panel of Women Who Have Successfully Relaunched Careers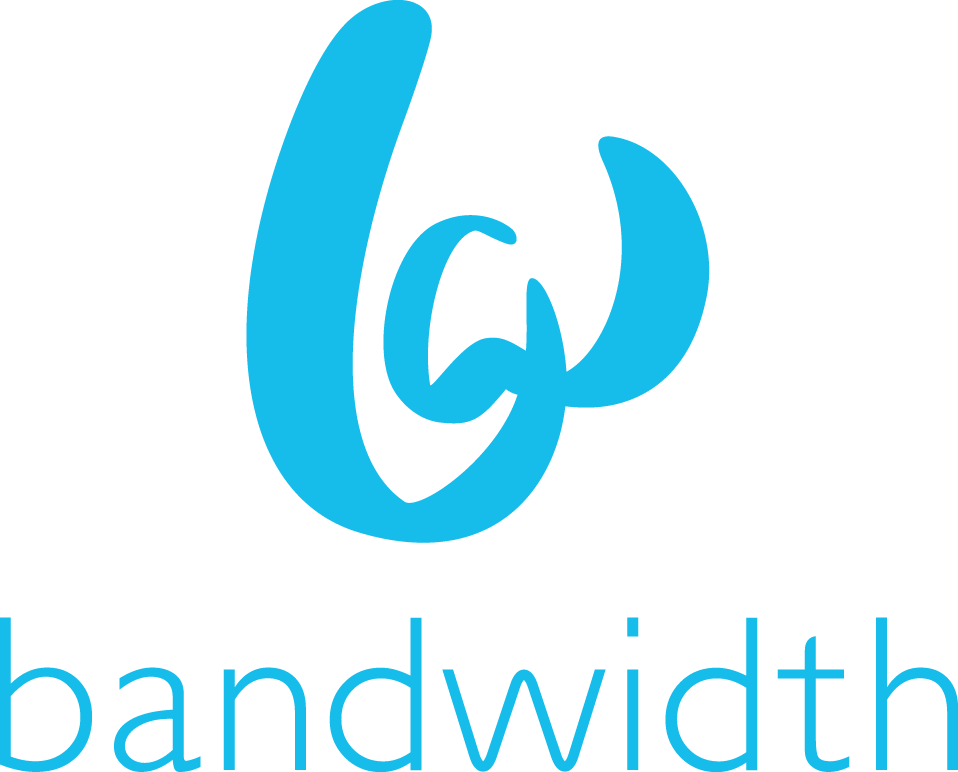 Hear from a dynamic group of women about how they successfully relaunched their careers after taking career breaks. 
Charlotte Post, Cisco
Christine Dorhman, Bandwidth
Lisa Chappell, wral.com
Jenn Keane, Citrix
Patty Vaudo, UNC Lineberger Comprehensive Cancer Center
Moderator: Jeannine Herrick
Sponsored by Bandwidth
Workshop: Charting Your Course Back to Work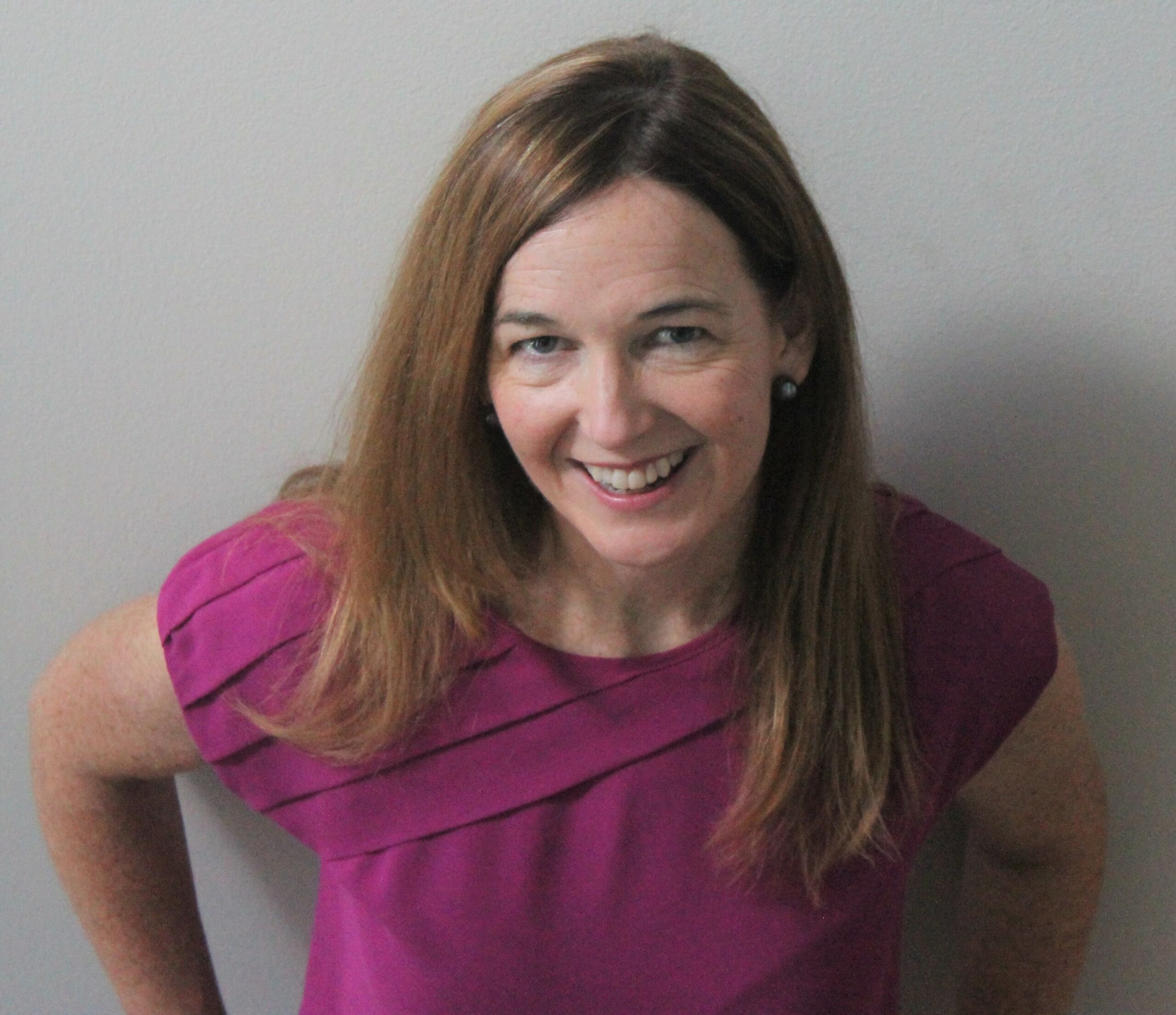 Katie Dunn
Founder, Back to Business
Plan your return back to work with a step-by-step process that ties together everything we've covered at the conference and Katie's career coaching wisdom.
Sponsored by wral.com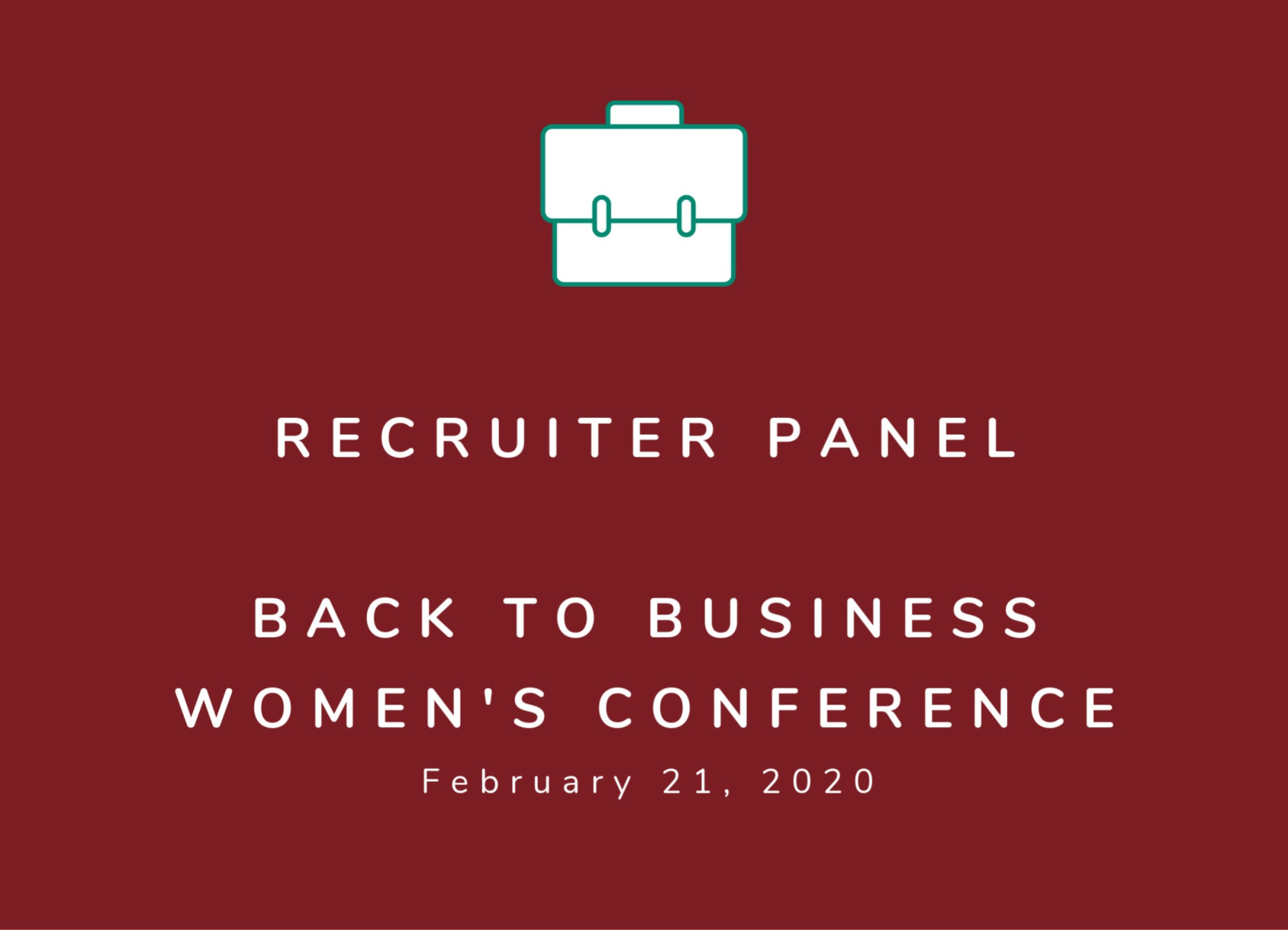 Hear from the people on the front lines of hiring at some great local companies. We'll get your questions answered by experienced recruiters and learn what makes a candidate stand out.
Lindsay Tarabocchia, Credit Suisse
Anthony Rocarro, BCBS
Amy Bruce, Bandwidth
Heather Krueger, SAS
Demetria Harley, Aerotek
Sponsored by Aerotek
This is your chance to make those personal connections that are so important in a job search! Meet recruiters and hiring managers from our sponsor companies in a fun,  informal environment. These are companies that are hiring women like you right now!
Participating companies:
Credit Suisse
RTI International
Aerotek
BCBS of NC
SAS Institute
Bandwidth
Allscripts
The Select Group
RTP Resumes
WE HOPE TO SEE YOU IN FEBRUARY IN RALEIGH!