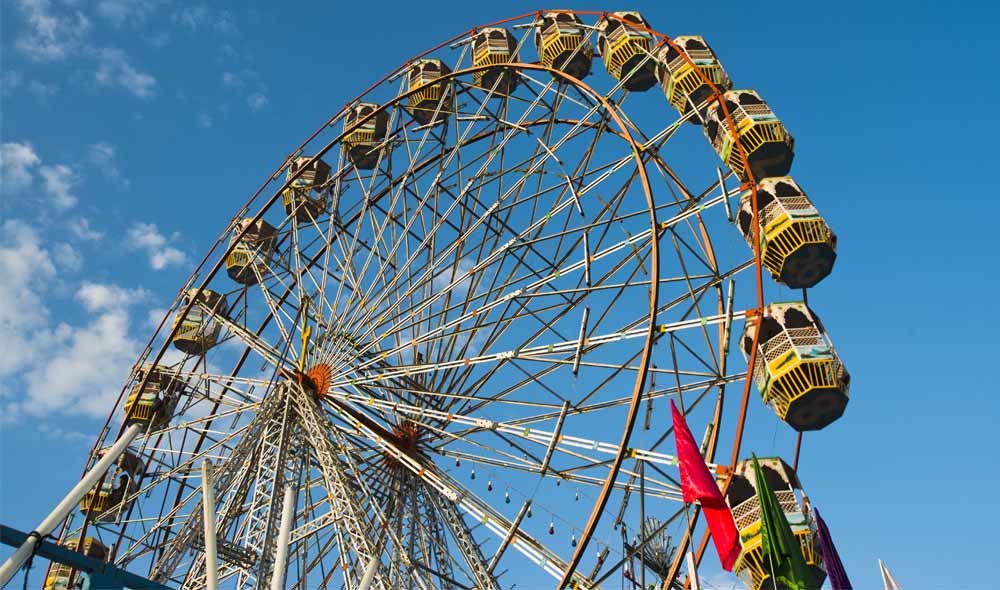 Job fairs are a great addition to your job search toolkit.  But the thought of all those employers in one big room and lots of other job seekers circulating around the room might be intimidating to some.
Never fear – I'm going to walk you through a foolproof guide to knock it out of the job fair ballpark.  When you follow these steps, you'll be prepared, confident and ready for success.  Let's get started!
First, find the right job fair.  Many are free for job seekers or charge a small fee, so look carefully at any job fair that comes with a hefty admission price.  Do your research – call the organizer and ask some questions before paying to attend a job fair as a job seeker.  The right job fair will have employers there that you are interested in, or at least that you are open to learning more about.
Register in advance.  This signifies a commitment on your part and will help ensure that you don't back out!
Research the list of companies that are attending.  Look them up and note the following things about each one:
What the company does
How big it is
What types of jobs they list on their website that they're hiring for now
Which of their available jobs you are interested in and a good fit for
How the company describes their culture
One interesting fact about the company that you can bring up in conversation with a recruiter
Prioritize the employers in order of how interested you are in each one.
Go to LinkedIn to search for job openings posted by the employers that will be at the job fair.  We're looking for a human contact at the company and LinkedIn sometimes has a box on the job posting that shows you who posted the job.  It looks like this: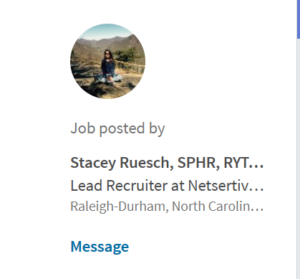 This is gold!  Now message or email (email is preferable) this recruiter to let her know you are a perfect fit for this job and will be at the job fair.  Include your resume.  Send it just a few days in advance of the job fair.  Be brief – you want your note to be read, so after you write it, cut it in half and then send it!
Look at the floor plan for the job fair and note where each company will have their booth so you can make your game-day plan.  Start with a company that is not one of your top priorities.  You want to get practice giving your pitch and really hit your stride by the time you approach your A-Company list.  I also want you to avoid looking like a lost soul wandering around the room.
Practice your personal pitch.  You should have a 20-second version of your pitch for a job fair that includes the following:
A firm and friendly handshake while you look the recruiter in the eye, smile and introduce yourself
A mention of your key skills and how they tie to the work this company does
The specific job opening you saw on their website that you are interested in.  We want it to be obvious that you did your homework before arriving
Your pitch should sound polished, but not like a recitation.  Keep it conversational.  Record yourself delivering it (I like the Recorder app for iPhone) so you can get good at it.
On game day, wear a suit.  You are a job seeker, and job seekers need to look professional.  Many other people there won't be in suits and you will stand out for your professionalism.
Bring copies of your resume.  Print them out on regular white paper, no need to buy the fancy paper we used to print our resumes on in the old days!  Put these in your padfolio or a nice folder along with some blank paper so you can take notes. Also bring business cards with your contact info if you have them.
Arrive early: If you arrive close to the beginning of the job fair, you'll wait in fewer lines and catch recruiters while they're fresh.  If the job fair starts at 8:30am, plan to arrive by 9am – let recruiters have their coffee and get set up before you arrive.
Enter the room like you own it!  You are the reason job fairs exist, after all.  Job fairs hope to attract qualified, professional candidates and that's exactly what you are!  So walk in with purpose in your steps, holding your map of the room that you've marked with the companies you want to see and get started with Company #1 on your list.  Here's a sample pitch:
"Hi, my name is Elizabeth Smith.  It's nice to meet you.  I'm a marketing manager with an expertise in digital marketing and I'm really interested in IBM because you set the standard in the tech field.  I applied for a Digital Marketing Manager position online would like to talk to you about it."   Then ask a smart question about it.  
Before you leave the table, offer your resume and business card and ask for the recruiter's card.  Also, ask about the best way to follow up and if it's OK for you to check in with them in a few days.  (You'll need to have the recruiters contact info to follow up.)
Need a break?  Step into the lobby, find a comfy chair and write down some notes while you take a breather.  Notes like this are helpful:
Met Cindy Smith at IBM.  Hiring in digital marketing, but not in partner marketing.  Call on Monday to follow up. Also have openings in Watson Health area.
Don't rely on your memory when you get home, because if you visit multiple booths they'll all start to blend together in your mind.
Within 24 hours, reach out to the people you met.  Connect with them on LinkedIn with a personalized message or send an email – or both.  Let them know that you enjoyed meeting them, remind them of your conversation or the position you applied for and express interest in meeting again soon.  Don't skip this step.  Follow up is very important and very few job seekers do it.
Good luck at the job fair!